Shanghai´s modern skyline would be recognised immediately by Buck Rogers: its soaring and preposterously capped skyscrapers look like they've been designed en masse by a comic-book illustrator from the 1950s. It is, quite simply, a twenty-first-century futurama of architecture that is both beautiful and ugly. Nothing epitomises this better than the Oriental Pearl TV Tower – a building of such cartoonish proportions that it looks set to take off once its engines are warmed up. The equally outlandish Grand Hyatt Hotel, in the Jinmao tower, might also be preparing for countdown. This sci-fi hostelry has an iconic atrium that soars more than 30 stories: but rather than elicit architectural awe, I found the vertiginous drop nauseous. A head for heights is essential in this brave new world. At night the city becomes even more futuristic. Electronic billboards 50 storeys high radiate colossal messages to the 22 million people down below. Skyscrapers attempt to outshine each other with super-lurid illuminations, and their constant fluorescent blinking puts Piccadilly Circus and Times Square to shame. Even though the city is so vast, it's easy to get the hang of Shanghai. The aerial roads that interlace it are more super-highways than flyovers, and offer an oddly detached view of the busy streets below.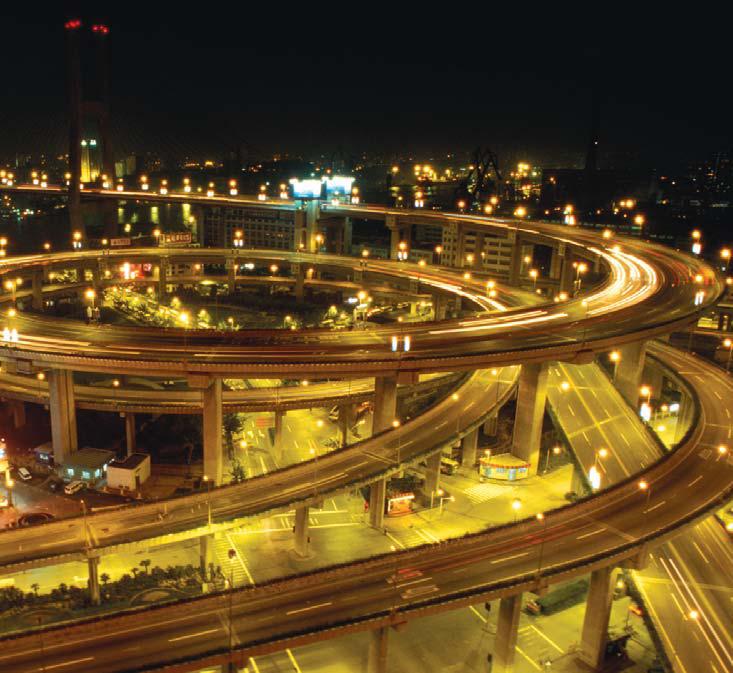 The immense Nanpu Bridge curls like a giant watch-spring on each side of Shanghai's main artery (it is the only span that crosses the Huangpu River). A garish tourist tunnel on the Bund promises all sorts of silly adventure underneath the water: but instead I took the commuter ferry for two yuan (somewhere in the region of seven pence) across the water, and marvelled at the sheer scale of this place. It struck me that the city is essentially about contrast: day and night, extraordinary wealth and solid utility. Neon-lit massage parlours and beauty salons in the French Quarter evoked a seediness and decadence that I found enticing. Blind masseurs gave an agonising foot massage for just a few pounds; while in the Saladin Club, rent boys played cards and vied for an altogether more expensive trade. Outside, broad avenues, narrow streets and winding alleys belong to the romantic Shanghai of the 1930s that Charlie Chaplain and Noel Coward would have known. Art deco mansions and occasional Edwardian suburban houses, left by expats decades ago, looked faintly incongruous. Laundry tied between balconies and trees on criss-crossed sticks was like so many fabric mobiles, and the complicated webbing of phonewires and electric tram cables only added to the glorious visual confusion. Perhaps fusion is the key. I saw a Prosperity God beaming from a shop window: but this golden statue owed as much to Father Christmas's well-padded figure as to more local styles. Here two distinct cultures were simultaneously (if unintentionally) encapsulated – East and West – in a God for all seasons.
Likewise, urban fashions embrace the latest in microfibre sportswear and traditional silk cheongsams: the girls in Shanghai look sleek and chic in both. Some sport punkish hairstyles, others classical black bobs. Beneath the bright lights, but still central to the city, is Yuyuan district, another intriguing ward in this charismatic sprawl, and something of a time slip. Here the lights are dim and byways mysterious. I sat in a simple steam-food restaurant packed with locals, and feasted from an aluminium cauldron filled with chilli chicken. As I neared the bottom of the pot, a child topped it up with hot water, making a soup into which I threw mushrooms, herbs and noodles. A bottle of Beijing Two Pot – liquor that is a startling 55 per cent proof – was the perfect, if somewhat potent accompaniment to a meal that cost not much more than a pound. I stumbled back to my hotel, another exotic cloud-grazer near the Bund. The Westin Shanghai typifies this city of extremes. Its enormous cantilevered glass staircase dominates acres of marble flooring in the lobby, which is a place staffed with improbably beautiful people. Cocooned on the twenty-sixth floor in understated luxury, I imagined an origami expert had made up the bed and a feng shui specialist had arranged my tatty luggage exquisitely on the low mahogany table. This is the type of glamour that only serious money can buy. It would cost something in the region of a month-and-a-half's typical salary (about 5,000 yuan) for an ordinary Shanghai resident to stay here for one night. The Fake Market still continues to ply its designer contraband.
Even though the superpowered luxury-goods conglomerates have threatened to bankrupt the traders and close the place down, here racketeering flourishes. The amazing hustle and hassle of the placewas punctuated by surreptitious petitions – "Watches, bags, DVDs?" – which became a constant mantra from spivs clad in dodgy Burberry macs. Mont Blanc pens were sold wholesale – a fiver could bag you a dozen –and bogus Gucci sunglasses were virtually given away. One enterprising old man attempted to drag me to his stall, muttering: "Ming dynasty, cheapy-cheap." It was hard to resist such blatant chicanery. But no visit to this exciting uber-city would be complete without a trip on the Germandesigned and Chinese-built Maglev (short for Magnetic Levitation Railway). This is the fastest commercially operated train on the planet,
whisking passengers from the airport at over 430 kilometres per hour, in a little under eight minutes. I met one man who regularly took a taxi to the airport just so he could take the space-age ride back into town.
After all of this, London felt crushingly Third-World on my return.
Where to stay
Grand Hyatt The tallest hotel in the world, occupying the top 34 floors of the 88-storey Jinmao Tower, in the heart of Shanghai's financial centre. It has a stunning sci-fi central atrium and 555 spacious guest rooms and suites, which afford superb views of the city.
Four Seasons Hotel Situated in downtown Shanghai, close to the most prominent shopping districts, the hotel provides excellent service and everything else you'd expect from the chain.
Pudong Shangri-La Sited along the beautiful Huangpu River, it offers great views of the riverfront, the Bund and the Oriental Pearl TV Tower. It has spacious rooms and a range of trendsetting designer restaurants and bars, together with a fitness centre, swimming pool and spa.
JC Mandarin Offers the best of modern comfort and convenience, international gourmet cuisine, stylish meeting rooms, tennis courts and a spa.
Central Hotel Shanghai Located in the heart of the city, a stone's throw from major attractions such as the Century Square, the Grand Theatre and the Shanghai Museum. The rooms are decorated in Western style.
Panorama Century Court Close to the bank of the Huangpu River, this hotel offers luxurious flats and elegantly furnished bedrooms in all classes.
Shanghai Jin Jiang Tower Conveniently located in the commercial district, this 43-storey hotel comprises three European-style buildings, surrounded by gardens.
Shanghai Top sites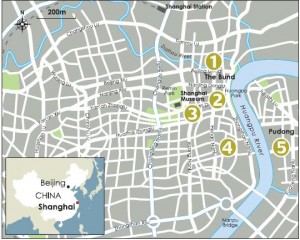 The Bund Shanghai's most famous landmark, this curving promenade running parallel with the Huangpu River is lined with grand buildings from the Imperial past.
Nanjing Donglu Formerly housing the city's most exclusive brothels, this glitzy thoroughfare is one
of China's busiest shopping streets.
Shanghai Museum Excellent exhibits of Chinese art and culture, from ceramics to sculpture.
Old Town The alleyways, quaint shops and makeshift markets provide a pleasant contrast to the Bund. It
includes the resplendent Yu Gardens, featuring pretty walkways, bridges, rockeries and carp-filled lotus ponds.
Pudong The city's spanking new economic area, east of the Huangpu River, which has sprung up in a decade. It includes such architectural feats as the Jinmao Tower, currently China's tallest building – until the World Financial Center next door is completed in 2007.
Website
www.shme.com Comprehensive website on all things Shanghai; from where to eat, places to visit and info
on the city's vibrant fashion culture.
Book a Hotel in Shanghai