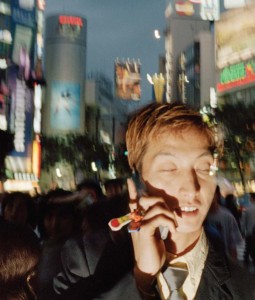 The station sign on the unfashionable side of Tokyo Station is one of my favorite things about the city. The sign is simple and nondescript, just a handful of letters tacked low on the station facade. Utilitarian and humble, it looks as if it might have come from a different time and country. It's an apt welcome to a city that contains a multitude of times and places; a city that wears a hundred different versions of itself, versions that follow upon other versions, like variations on a theme long forgotten. As if the city were subject to mood changes, the temperature of the place shifts from one moment to the next, and spending a day in Tokyo can sometimes feel like galloping after a rapidly shifting, eternally elusive daydream of a city. Anybody who has visited Tokyo will know that it can sometimes be a hard city to see. A hard city to see because it is steeped in ideas of the past and present and future; a hard city to see for maybe more literal reasons, because of the flow of its architecture, the distillation of sunlight bouncing from building to building, an alchemy of angle and perspective that is difficult to articulate. And, sometimes, it seems as if it's a hard city to see simply because there are so many different dreams floating across its countenance. Tokyo carries a lot of dreams, and as with any cosmopolitan city, the people who come to the city are the carriers of that dreaming.
My mother always says that nobody is really from Tokyo, and one of the first things that strikes me whenever I'm there is the way that the Japanese spoken in the city is typically without accent, as if every newcomer had prepared for their arrival by hammering out any audible traces of the region from which they arrived. Each person who comes to the city arrives with their own version of Tokyo to pursue, and it is maybe that sense of hopeful ambition and driven necessity that transforms the visitor into the city native. But this is just to say that people come to Tokyo to enact a certain version of themselves, and in this sense the very multiplicity of the city can be seen most clearly in the capital's inhabitants themselves. Look at the city streets and you will see young boys and girls dressed in outlandish outfits, costumes more than outfits, Raggedy Ann and Elvis and Alice In Wonderland appearing on street corners, chatting with friends or bent over their mobile phones. Turn the corner and you'll see a flock of suited businessmen, their anonymous uniform performing a function not unlike the costumes of their youthful counterparts; in both cases there is an element of theatre, of self-invention and disguise. I love people-watching in Tokyo, on the streets and in cafes and shops.
There is something intoxicating about the vivid cacophony of character and display. But I also love those parts of Tokyo that are more anonymous, and seemingly devoid of personality. I like the great wide streets you will sometimes find, in areas as unlikely as Shinjuku, unexpectedly emptied of pedestrians. I like the barren desolateness of the new developments in Tokyo Harbor, mammoth projects in various stages of incompletion. I like these places not just because they are the opposite of the many received images of Tokyo – as a bustling metropolis, as a futuristic techno dreamland – but also because in some ways they provide a very honest sense of the city. It's a version of the city that is quiet, a little lonely, and in a perennial state of incompletion and uncertainty. It's a version that exists behind the wild costumes and the uniform suits, beneath the confident bustle and the tremendous sense of productivity; it's a version that can be drawn through the whole of the diverse landscape of the place.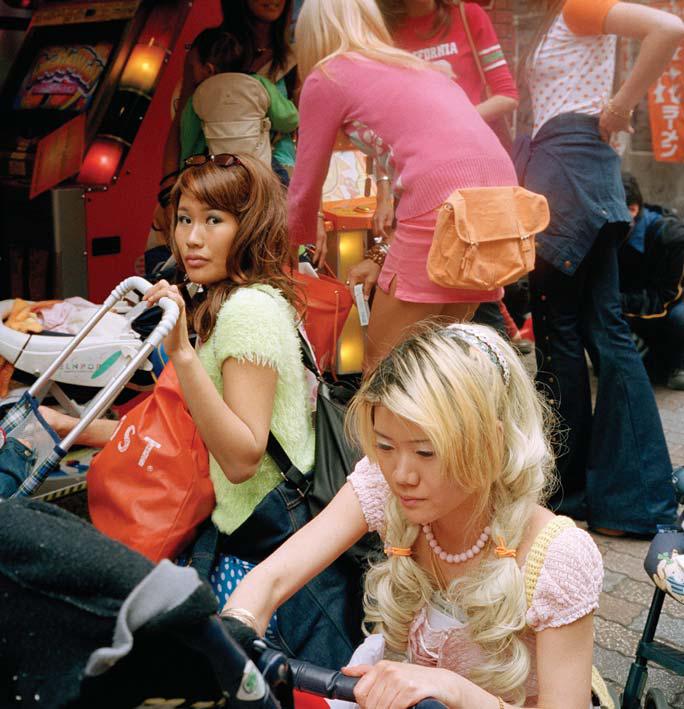 I think probably there are plenty of people who are born-and-bred Tokyo dwellers – my mother's whole side of the family, for example, have always lived in the city – but I like the way the city accommodates that feeling of transience and uncertainty, blankness and anonymity. I like the fact that while people all around the world have the city pinned down as the place where 'the future is happening now', most of the people in Tokyo are more concerned with navigating the present. But that, of course, is always what has made the city and its inhabitants so alluring, from the outside: the nonchalance with which Tokyo natives inhabit this brave new world of futuristic technology and convenience. The dreamer who doesn't see the dream – that's probably why the idea of Tokyo continues to hold fast in our imagination, a perpetually
elusive wonderland.
Where to Stay
Park Hyatt The setting for Lost In Translation, this luxurious hotel occupies the top 14 floors of the Shinjuk Park Tower. Its stylish rooms afford breathtaking views of the city and Yoyogi Park, while great views can also be had from the New York Bar, where international artists perform live jazz.
The Conrad There are 290 rooms and suites in this ultra-lavish hotel close to Ginza district, with panoramic views.
Park Hotel Situated in the Shidome Media Tower, this was the first hotel in the city to join the Design Hotels group. It offers 274 individually designed and decorated modern rooms, and professional pillow-fitting staff to ensure you a good night's sleep. It also has a great view from the lobby on the twenty-fifth floor.
Palace Hotel A tranquil retreat in the heart of hectic Tokyo, this fine hotel overlooks the Imperial Palace and gardens. It has 389 rooms, six restaurants and its own shopping arcade.
Cerulean Tower Hotel An elegant deluxe hotel with a spectacular view. It features special Japanese rooms for those who wish to experience a traditional stay, plus fitness club, beauty salon, jazz club, Christian and Shinto wedding chapels and a Noh Theatre.
Top sites
Tsukiji Fish Market The largest wholesale fish and seafood market in the world. Open Monday-Saturday between 5 and 9 am, this market handles more than 400 different types of seafood.
Ueno Park A beautiful public park and favourite spot for Hanami – cherry-blossom viewing – in the springtime. It's also famous for its museums and zoological gardens.
Asakusa Famous for its temples – most notably Sensoji, Tokyo's oldest Buddhist temple, which is said to date back to the seventh century. This is one of the few districts to preserve a sense of the old Tokyo.
Akihabara This neon-splashed district is one of the world's largest shopping areas for electronics. Its shops stock every new gadget imaginable.
Imperial Palace Home to the Imperial family. The inner palace is closed to visitors, but the ancient Nijubashi Bridge is probably the most photographed bridge in Japan.
Ginza Prominent shopping and dining district, once destroyed in the air raids of World War II, but now a glitzy entertainment area.
Websites
www.planettokyo.com General information on hotels and restaurants, plus a basic guide to language and tours.
www.tokyoessentials.com Useful for both visitors and those who plan to stay in the city on a more permanent basis.
Book a Hotel in Tokyo