Edingburgh often comes as a surprise to visitors. It may be a British city, just over four hours by train from London, yet it is strikingly different from just about every other city in the United Kingdom. As Robert Louis Stevenson, one of its best-known writers, once wrote, it is a 'profusion of eccentricities, a dream in masonry'. Yet it is not one of those cities that has become a theme park, a fate that hovers over towns that are too pretty for their own good; Edinburgh is very much a lived-in city, one of the most vibrant and exciting places in the world, home to the world's biggest arts festival, one of the most important financial centres in Europe, and a place of science. And, to top it all, it is a city of great character, that sometimes unidentifiable quality that is becoming increasingly elusive in our globalised world. At the time when Mary Queen of Scots occupied Holyrood Palace, Edinburgh was not much more than a cluster of unsanitary buildings running down from the Castle to the palace. Mary was one of the most intriguing and romantic of monarchs, and those who are interested in the turbulent history of her reign will find much to see in Edinburgh.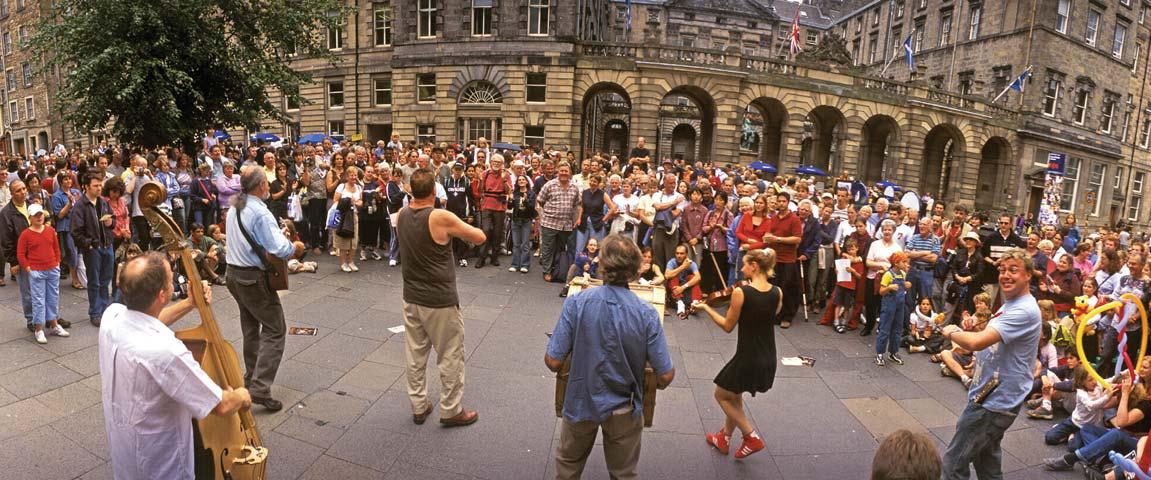 A short walk down the Royal Mile takes one past the site of the old Scottish Parliament to the house of the Scottish religious reformer, John Knox, who harangued Mary for her Roman Catholicism, but who still admired the character and strength of this ill-fated queen. A further walk leads past the new Scottish Parliament, where the same feisty tradition of Scottish rhetoric continues, and on to Holyrood itself, where one can see the chamber where Mary's husband, the young and handsome Lord Darnley, assisted in the murder of her Italian secretary in the middle of an intimate dinner party that the Queen was holding – not the most successful of Edinburgh dinner parties, one would have thought. But Edinburgh's history is not just one of intrigue and dark deeds. This may be the city of Burke and Hare, the famous murderers who so selflessly helped Scottish anatomists to further the city's reputation for medical education: it is also the city of the Scottish Enlightenment, that extraordinary flowering of the intellect in the seventeenth century that resulted in Edinburgh's becoming the European centre for philosophy and the newly-emerging social was said that one could stand at a point in the centre of Edinburgh and shake hands with 50 men of genius as they passed by.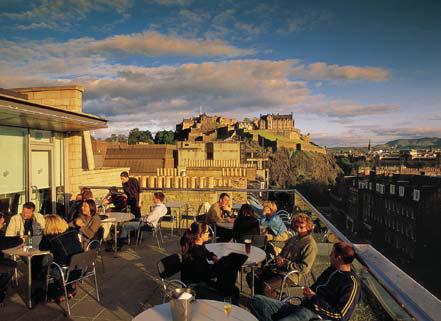 That suggests a somewhat huddled metropolis, and it was to escape this concentration of people in the Old Town that the city decided in the second half of the eighteenth century to cross the Nor' Loch and expand to the north. The result was Craig's splendid New Town, a great swathe of classical architecture laid out in handsome squares, crescents and roads. And this, to Edinburgh's great good fortune, survives, and is still lived in and worked in to this day. Although the New Town expanded the city, it did not destroy its fundamentally intimate nature. Even today you can walk from one side of the city to the other without risking exhaustion, and, if one lives here, that walk will probably involve seeing faces that you know. For Edinburgh still has a strong sense of civic identity; as Jean Brodie reminds her young charges in Muriel Spark's great portrait of a spinster schoolmistress of the 1930s, those who live here are citizens of the city. For the literary traveller, Edinburgh is particularly rewarding. Robert Burns, by far and away the bestknown of Scotland's poets, lived in Edinburgh for a while, and if one goes to the interesting Canongate Kirk (the Parish church of Holyrood Palace) one can see the gravestone that Burns erected in memory of Robert Ferguson, another eighteenth- century Edinburgh poet whose work inspired Burns himself. And there are other landmarks of literature. Poking up from Princes Street Gardens, not far from the National Gallery of Scotland, is the Scott Monument, one of those peculiar, spiky Victorian structures that does very little other than provide elaborate shelter for a statue.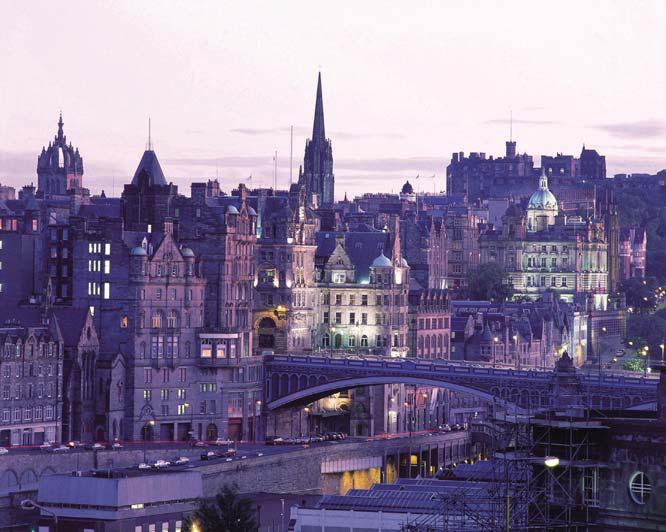 It reminds one that this is the city of Walter Scott, that energetic writer who inspired an entire generation with enthusiasm for the romantic Scotland of Rob Roy, Redgauntlet and all the rest. Then there was Stevenson, whose house in Heriot Row in the New Town may still be seen and, on occasion, visited; and Compton Mackenzie, author of Whisky Galore, who lived around the corner in Drummond Place. Scottish literary figures have a reputation for enjoying whisky, and there are a number of literary pubs in Edinburgh, including Milne's Bar, where Hugh Macdiarmid gathered with his friends, and the Oxford Bar, where Inspector Rebus, the hero of Ian Rankin's popular detective novels, drank to drown his various sorrows. And if that is not enough whisky, your final port of call might be the Scotch Whisky Heritage Centre near the Castle. Or perhaps your penultimate port of call: dinner will be needed, and the fact that Edinburgh is said to have more restaurants per inhabitant than anywhere else in the United Kingdom means that the choice is a wide one. For a real treat, try Prestonfield House, where peacocks strut the grounds and the strain of the bagpipes is often to be heard. Romantic? Of course. And why not ? This is, after all, a very special city.
Where to stay
Edinburgh Top sites
The Castle This Edinburgh landmark dominates the city it looks down upon. Only reachable from one direction, its position on the rocky outcrop has kept it protected for over 1,000 years.#
The Royal Mile This route links the castle to The Palace of Holyroodhouse, taking you past John Knox's house, St Giles' Cathedral and Parliament Square.
Palace of Holyroodhouse & Holyrood Park The Queen's official residence in Scotland, dating from 1128. Next door is the park, where Arthur's Seat, an extinct volcano, gives unparalleled views of the city.
Museum of Scotland The story of the land, people and culture of Scotland is told through the museum's
rich collections. The museum itself is a fine piece of modern architecture, built from golden sandstone.
Royal Yasht Britannia (not on map) Having sailed a million miles, Britannia now rests in the port of Leith.
Websites
www2006.org/edinburgh This single page has all the web links you could ever need for guides, tours, heritage, festivals, literary sites, shopping, eating out, sport, music and a search for the alternative and mysterious.
www.itchyedinburgh.co.uk Hundreds of articles and photos on all things Edinburgh, covering eating
out, theatre, gigs, sport, shopping, accommodation and much more.
Book a Hotel in Edinburgh