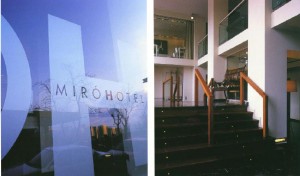 Miro Hotel

Alameda Mazarredo, 77
Bilbao 48009
(Rates from  95 €)
Hotel Information: Miro Hotel Bilbao is located  the heart of Bilbao halfway between the Guggenheim Museum and the Museum of the Fine Arts, a six story building house one of the finest designer hotels in the up and coming city. The Miro Hotel has its own character due to the work of a team who collaborated in order to create a hotel, which, despite its small size, could offer all the advantages of a large hotel. Designer Antoni Miro steered the project´s design in the same spirit of conceptual riga tor which his work in the world of fashion is renowned. The hotel´s minimalism is a guiding principle of the project. Miro Hotel is a decidedly cutting-edge and modern space where practically and discretion stand out in every detail. In order to achieve this an almost monochromatic palette was chosen, against which certain areas, such as lobby or certain pieces of furniture, occasionally contrast in brighter colors and eye catching shapes. The entrance, a space with high geometric lines, is a few steps above the lobby and bar. This arrangement makes these spaces more intimate and cozy than the traditional internationl hotel lobby.The rooms where the same chromatic contrasts continue including the blue hue of the rug are quite pleasure warm spaces.
Category: ****
Guests review score: 7,8/10 (of 77 reviews)
Room Information: 50 rooms. Glass of wine in your room on arrival and free CD and DVD rental. The rest is up to you! Free access to internet via Wi-Fi and DSL.  Minibar, Shower, Safety Deposit Box, TV, Telephone, Air Conditioning, Bathroom Amenities, Bathroom, Heating, Satellite TV, Hairdryer,  Bathrobe.
Rates: from 95 Euro. (Check Availability)
Hotel Facilities
General Restaurant, Bar, 24-Hour Front Desk, Non-Smoking Rooms, Rooms/Facilities for Disabled Guests, Elevator, Express Check-In/Check-Out, Safety Deposit Box, Luggage Storage, Gay Friendly,
Activities Fitness Centre,  Library.
Services Room Service, Meeting/Banquet Facilities, Laundry, Dry Cleaning, Car Rental, Fax/Photocopying.