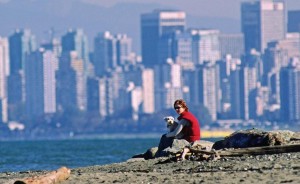 Hours from its final destination, my train slipped silently down through the canyon of British Columbia's Fraser River, carefully negotiating the last hairpin curves and precipitous elevations. Hell's Gate and the Kicking Horse safely behind us, the river's flood plain stretched out toward the ocean. And the Pacific North-West emerged in all its grandeur. If you are unable to get there by wagon train or Haida canoe, it is with VIA Rail's iconic service, which sets out some 4,500 kilometres away, that the approach to Vancouver makes most sense. As you cross the Rocky Mountains, which separate this part of the world from what lies to the east, it is its proximity to nature that remains Vancouver's outstanding characteristic. I recall being impressed by this the first time I camehere, as a student in 1951. My first instinct upon arrival had been to make for the harbour, which lies next to the railway terminus. A light aircraft, water spraying from bulbous pontoons, was lifting away from the waterfront pier, its noisy single engine racketing around the bay. Within seconds of the plane's takeoff, its sound had been completely swallowed up by the surrounding mountains, forests and inlets, all veiled in a seemingly permanent mist. The coastal Indians – the Haida, Tsimshian, Coastal Salish and Kwagiult – have had good reason to maintain their bond with nature.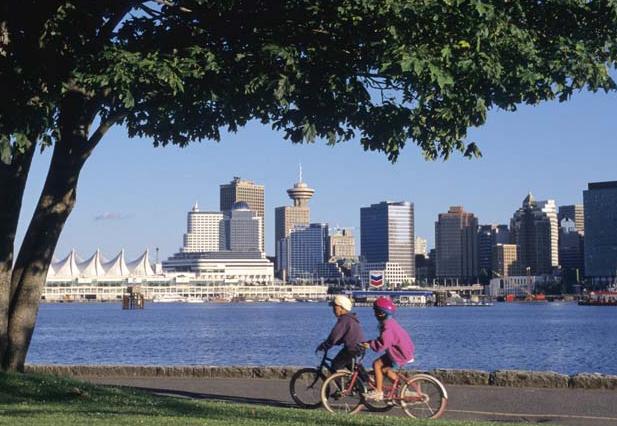 The view that greeted me more than half a century ago, when only two buildings had any claim to size, is fundamentally unchanged today. True, the district is now densely colonised by high-rises, where open spaces once allowed unimpeded views of the surrounding mountains and water. And with the facilities for the Winter Olympics of 2010 already under construction, the end of building work is not in sight. But the setting is as grand as ever For a comprehensive bird's-eye view of the city, I boarded the sightseers' trolley in Gastown. Nowadays aproperty developer's dream location, this was, until recently, a decaying district that dated back to frontierdays. Local history records that within 24 hours of arriving in 1867, John Deighton opened the Globe Saloon. His nickname, Gassy Jack, gave the district its name – and the saloon he opened still stands. Our singing driver steered us past the converted railway yards in Yaletown, another focus of high-rise fever, to Stanley Park's Prospect Point.
From here the spectacular Lion's Gate Bridge soars across Burrard Inlet toward the mountains beyond. Although there are many forest trails by which to explore this third-largest of North America's urban parks – an amazing 20 per cent larger than New York's Central Park – my instinct took me towards open water and the nine-kilometre pathway, the Seawall, that runs along the shore. You can spend time watching harbour seals, herons, cormorants and grebes in their thousands, or simply enjoy the walk for what it is: a hub of the city's social life and a magnet for hikers, cyclists, anglers and romantic couples.In 1886, the City Council turned a 1,000-acre chunk of downtown land into a park, which it named after Canada's then governor-general, Lord Stanley. Thankfully, little has been done to change the space, right down to its crop of native Indian totem poles. Free public access to virtually the entire shoreline is also preserved. It is possible to walk at water's edge unimpeded from the Bayshore Inn to Spanish Banks and as far as the University of British Columbia. Further evidence of the city's dedication to preserving as much as possible of its natural habitat may be found at False Creek.
As its name suggests, this is not a creek but an inlet, and it lies on Granville Island – which is a peninsula, rather than an island, and is also, arguably,North America's most successful revitalisation project. Zoned for massive development in time for 2010 and the Winter Games, it ranks among the city's most popular neighbourhoods for dining and recreation. This popularity can be explained, at least in part, by its comprehensive access to open water. If there were one single thing to see in all Vancouver, apart from the park, my advice would be to make it the 'island's' market. It is, as they say hereabouts, to die for. My most recent sojourn here ended in the far-distantpast. I heard that the salmon had returned to the shallow pools and inlets surrounding Horseshoe Bay to spawn – an annual miracle that takes place on the city's doorstep, and one that I was determined not to miss. Bald eagleshad also gathered, in their hundreds, to scoop up and dine on the exhausted fish.I arranged with a local marina to be taken out onto the open water. What I was privileged to see, thanks to idealweather and my boatmen, was a phenomenon of nature that completed, in the most natural way possible, a vision of Vancouver that is shared by all who come here.
Websites of Vancouver

www.travelcanada.ca An interactive and highly useful guide to the country.
www.tourismvancouver.com An indepth city focus with events listings.
www.vancouverscenes.com Provides a pleasant photographic and video view of the city's picturesque locations