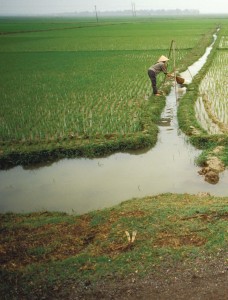 You are not supposed to look left or right  when you cross a road in Vietnam. Just stride forward into the sea of motorbikes and they swirl obligingly around you until you get to the other side. But I was so distracted that I nearly didn't make it. Slender women in white opera gloves and flowing blue silk trousers, looking like supermodels, were roaring along two to a bike. Wiry men pressed against handlebars had huge potted kumquat trees roped to the pillion. Whole families astride single machines were waving red joss sticks and gold streamers. There's a sense of energy and celebration in Vietnam. It's 30 years since the war ended and that's the longest period of peace the country has known for centuries. Vietnam is booming, not least in its population, which is now 83 million, compared to 13 million in Cambodia and just 5 million in Laos. Every road is packed with bikes. Every inch of land is farmed. Even the airport runway has neat rows of vegetables growing by the side of it. Although much of the country is rural, with lush green rice paddies, evocatively named rivers and a 3,400-kilometre coastline of white sand beaches, the cities have become the height of chic. Fashionable shops, art galleries and restaurants have blossomed in Hanoi and Saigon amid the elegant French colonial buildings and traditional Confucian temples. In Ho Chi Minh City, formerly Saigon, Dong Khoi street is a shopper's paradise with boutiques that effortlessly blend French style with Asian exoticism. I was lured into Khai Silk and succumbed to an exquisite shirt in cream silk. Afterwards I bought pretty hand-painted postcards of rickshaws from a street artist, and wrote them over a café crème at the charming Paris Deli nearby. Feeling transported back to France, I posted my letters at the colonial post office, designed by Auguste-Henri Vildieu in 1891, opposite Notre Dame Cathedral.
The distinguished yellow building, all white cornices and arched windows with green shutters, has a spectacular vaulted and glazed interior, presided over now by a picture of Uncle Ho, whose aim was to oust the French. The colonial architecture of Saigon and Hanoi is in dispute, as the Vietnamese are content to let it crumble, while the French are eager to restore. Hanoi is almost a French city, from the Long Bien bridge (designed by Gustave Eiffel, who fled Paris for Indochina after his controversial tower) to whole streets of belle époque villas that look as though they have been lifted straight out of Paris or Nice. The Metropole Hotel, with its sparkling white stucco façade, oriel windows and fluted pilasters and balconies, built in 1911 and once host to Graham Greene, is now being revamped by Sofitel. However, the Presidential Palace, built by Vildieu in 1906, has been repainted orange – and will doubtless be red, in true Communist style, by my next visit. But for a sense of timelessness, Halong Bay in the north is the place to go. Here 3,000 steep limestone outcrops rise sheer from the translucent blue water.
Frequently swathed in mists (for the weather in north Vietnam is like ours, overcast and grey; and conversation, like ours, revolves around it), this bay has an ethereal atmosphere. I rowed silently in a small boat around the outcrops, covered with twisted vegetation, and into echoing caves and rocky islets, re-emerging into mists where passing junks with their distinctive sails appeared and then vanished like ghosts. Extolled by poets and painters, and now a UNESCO World Heritage Site, Halong was where the French first arrived in 1872, altering the course of history. But when I asked Thu, our guide, about the recent past, she said emphatically: "It's just that: the past. I was born after the war ended. Now we are all making our future." Future and past are inextricable for some, though, as Nguyen Kim Manh explained when I dined at his Café des Amis on the quayside in Hoi An. This gem-like sixteenth-century town was once a great port, trading with China and Japan in silk, gold and porcelain.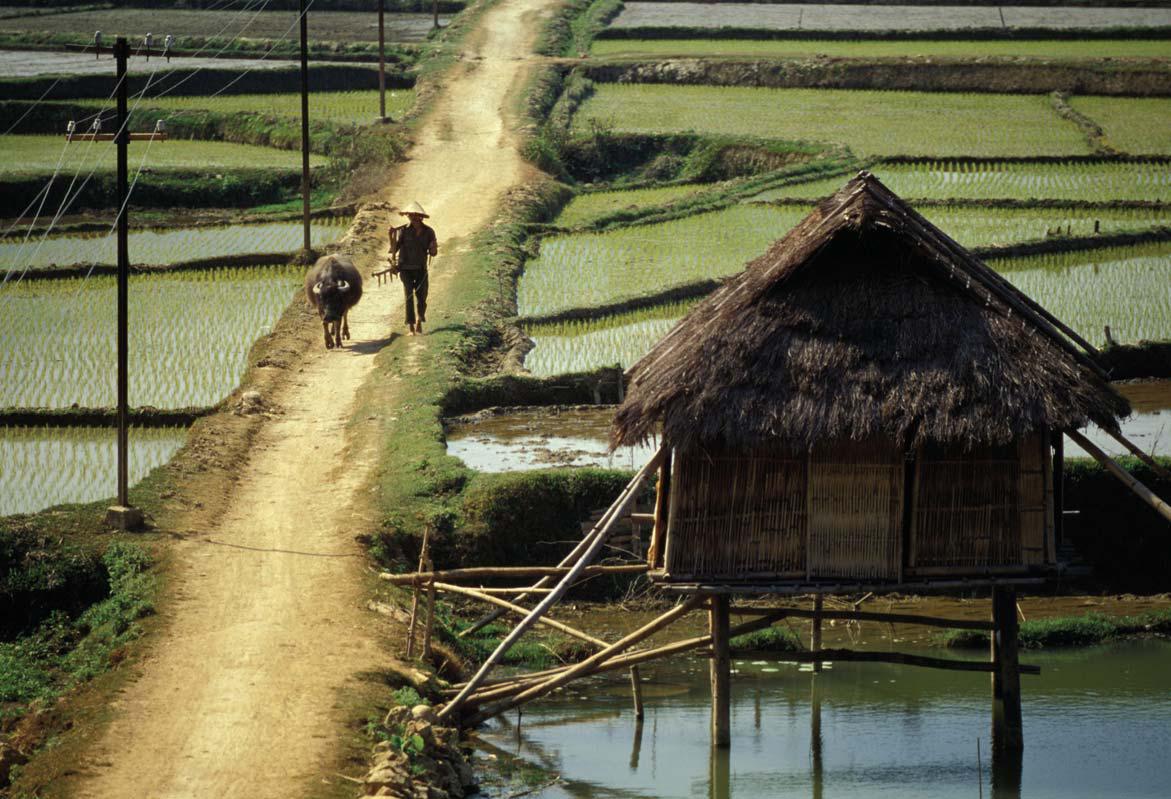 Its legacy is ancient pagodas, a medieval-looking Japanese covered bridge, and a picturesque Chinese quarter of wooden merchants' houses with sumptuous interiors. Kim, in his sixties, a former high jump champion and tennis player, learned to cook in the South Vietnamese army where he had to do more than just satisfy his commanding officers. "They also made me eat a mouthful of every dish to make sure it hadn't been poisoned," he said, rolling his eyes at the memory. After the north won the war in 1975, Kim's property was seized and his 15 brothers and sisters left the country. But he stayed on, as the eldest son, to maintain the family tombs and "look after the ancestors". Kim served me bans bao banh vac, moist parcels of rice flour stuffed with shrimp terrine, on a layer of sauce made with nuoc mam, a pungent fish paste. This was followed by sauteed cuttle fish, a local delicacy, mixed with cabbage, onion and pineapple, on a crisp pancake. Vietnamese food is delicious. Even Ho Chi Minh started out as a kitchen assistant, in London's Carlton Hotel in 1914, and became a pastry chef in Paris under Escoffier. Had he stayed on, history might have been different. Replete, I wandered out of Kim's to find myself once more confronted by a stream of bikes and bicycles. Now distracted by much more than fleeting impressions, I looked neither right nor left and strode across the road.
Top sites
Hanoi Explore the sights of the elegant capital – such as the Temple of Literature – before losing yourself in the labyrinth of hectic alleyways in the Old Quarter, an area surrounded by pretty lakes and pagodas.
Ho Chi Minh City Visit the History Museum and immerse yourself in the country's rich heritage, then head for the Cho Lon marketplace, to absorb some of the vibrant and animated spirit that characterises daily life here.
The Mekong Delta Meander past fruit orchards, bright green rice paddies, and graceful coconut palms before exploring the floating markets and countless canals in the maze of the mighty Mekong River.
The DMZ Take a pilgrimage through the demilitarised zone which still bears witness to the extent of the destruction caused by the war: the barren soil has yet to recover. A nature walk in the stunning Bach Ma National Park will help soothe the spirit afterwards, as will a cruise in a dragon boat down the Perfume River, which runs past gorgeous Royal Tombs.
The South-Central Coast Tour the impressive Cham ruins at Pahn Rang and Thap Cham, then relax on the peaceful Mui Ne Beach nearby.
www.vietnamtourism.com Highly detailed tourist board site, with advice on destinations, festivals and landmarks.