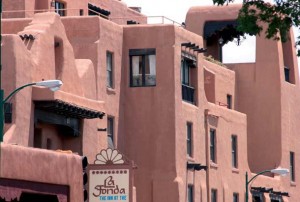 The scene in this corner of Santa Fe could be straight from a Quentin Tarantino film. On the porch of a bar called Cowgirls, people are enjoying vast plates of barbecued meat while hypnotised by the smooth gyrations of a beautiful dark girl in a shimmering white skirt, who seems to glow in the velvet night. Inside,men in wide-brimmed cowboy hats sit at the bar drinking beer and bristling with masculinity.Santa Fe, New Mexico, is exactly as I imagined it: a frontier town in the wild South-West. In daylight the city is less easy to define,more a melting pot of cultures, characters and styles. Driving into the city from Albuquerque along the modern highway, I'm surrounded by the harsh inhospitable terrain that greeted the Spanish when they arrived here in the seventeenth century,endeavouring to extend an empire that stretched all the way from Tierra del Fuego,at the end of the world.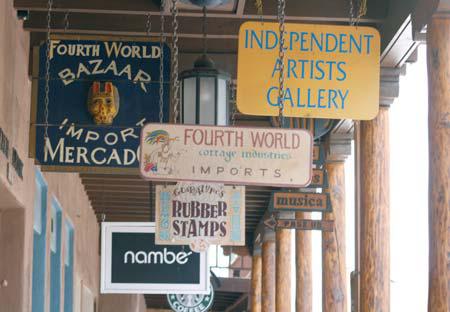 The desert landscape their horses crossed still stretches for miles, strewn with small bushes of piñon (or pine) and purple juniper. Santa Fe perches in thin air at an altitude of 7,000 feet.The desert can freeze for eight months of the year,and snow caps the southern Rockies even when the temperature is rising in the valley below.A hailstorm can appear out of nowhere to cut through the searing summer heat. Cutting through this extreme environment, the Santa Fe Trail was an important nineteenth-century trade route,passing from the forests and prairies of Missouri and Kansas, through Indian territory, to end in Santa Fe's Plaza,where traders still ply their goods outside the Palace of Governors, the oldest public building in the usa. These days, only Pueblo Indians from the local Native American villages are permitted to trade here, in the heart of the city.The sellers sit in the cool shade of the porch, their intricate silver and turquoise jewellery laid out for sale. Across the road,Mexican enchiladas are sold from carts, and a five-and-dime store sells cheap goods and greasy burgers beneath its adobe facade. In the midst of this intriguing blend, it can be hard to distinguish what is authentic and historical and what is a modern-day recreation.Even the McDonald's is modelled on local adobe architecture.There are only two styles allowed in central Santa Fe, the adobe and the New Orleans style, with its whitepainted wooden pillars and decks.
As a Californian-turned-local dryly remarked, "Santa Fe has uniform architecture,but total lack of uniformity in everything else." St Francis'Cathedral is one of the only buildings in the centre to depart from the conventional style of architecture its solid stone structure still soaring above the soft, curved mud walls of the surrounding buildings,hundreds of years after the conquistadores swept in with their Catholicism. But Mother Earth still has a hold on the population,and Buddhism has crept in with an influx of Tibetans,who seem to feel at home in the high altitudes, and have been embraced by an accepting hippie community.A local Buddhist woman whispers of a double prophecy: Tibetans were told that they would meet with red men in a distant land and,strangely,Native Americans also predicted that red-cloaked visitors would come from the east. Santa Fe residents are not only spiritual seekers, though. Here you'll find a heady mix of business-savvy Native Americans, Hispanics,South-Western folk in cowboy hats, and bohemian artists from around the world.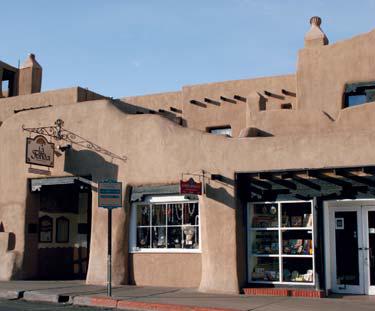 By day this disparate throng go about their separate business,but by night everyone flocks to the atmospheric El Farol for drinks and live music, to sit on the porch where the breeze is cool and scented with piñon. It's a popular spot on fashionable Canyon Road,somehow squeezed in between the many art galleries – filled with creative offerings, from Native American art on buffalo hide, to modern conceptual art in bare white-walled rooms – that are scattered along the old Indian trail. They say that it's the clarity of the light that draws so many artists to tiny Santa Fe, in the forty-seventh state of the Union and largely forgotten by its own country. The skies are wide, bright and blue,and for the best part of the day the ristras – bunches of dried red chillies that hang from every building – cannot cast a shadow against the mud walls, though their spicy aroma spikes the air right across town. New Mexican cuisine uses chillies to flavour almost every meal. Breakfast omelettes are filled with green chilli and cheese,lunchtime tamales are steamed corn meal stuffed with ground pork and chilli.At dinner I try the chilli rellenos, a whole green chilli stuffed with cheese and battered. Soft fried bread called sopaipilla is served, to be dipped in clear honey, offering a sweet and cooling contrast to the rest of the menu,which is as hot as the weather. It's hard to imagine,in the scorching summer heat, that winter will ever reach dusty Santa Fe. Sitting on a porch again, this time at an out-of-town convenience store, I sip a blood-orange margarita from a jam jar.A flurry of cotton buds swirls around my head,caught in a gust of wind,and it could almost be the first snow coming in off the Sangre de Cristo mountains, dusting the city like the icing on an adobe cake.
Hotels and Resorts in Santa Fe

La Posada De Santa Fe This 157-room retreat set within six acres of landscaped grounds, in the heart of Santa Fe,has a spa with a heated swimming pool, whirlpool and fitness centre.Many adobe-style rooms have kiva fireplaces and shady patios.
Inn of the Anasazi Just off the old Plaza, this 58-room boutique hotel is beautifully decorated with large handcarved doors, sculptured stairways and sandstone walls.The cosy library houses a great collection of books about South- Western art, history and culture.
Encantado Set against the foothills of the Sangre de Cristo Mountains, there are 62 secluded casitas with stunning views of the Jemez Mountains and the Rio Grande River.The main lodge has a restaurant, lounge and courtyard with fireplaces for outdoor dining.
Hotel St Francis Built in 1880, this lovely hotel has a delightful old-world elegance, featuring leather armchairs, oil paintings and sweeping staircases. Rooms have high ceilings and mountain views.An afternoon tea of scones and finger sandwiches is served in the lobby, while the wood-panelled Artist Pub serves drinks from a copper-topped bar looking out onto downtown Santa Fe.
Top destinations in Santa Fe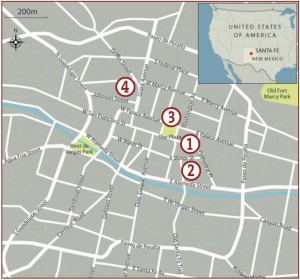 Institute of American Indian Arts The only museum in the usa devoted to contemporary Native American art, it houses over 7,000 works within its adobe walls,and a sculpture garden.
Loretto Chapel Completed in 1878, this neo-gothic building is famous for its 'miraculous'spiral staircase which completes two 360-degree turns with no visible means of support.
The Plaza Central hub of the city and end of the famous Santa Fe Trail. The Palace of Governors dominates one side of the square – the oldest public building in the usa,an impressive adobe structure where Native Americans sell beautiful turquoise.
Georgia O´Keeffe Museum O'Keeffe's paintings focus on the landscape of New Mexico,often transforming its contoured rocks,bleached bones and fragile flowers into powerful abstract or sensual images.The museum's collection includes more than half of her total works.
www.santafe.org Photogalleries and history offer an overview of the city,supported by events information and listings for restaurants, hotels and museums.