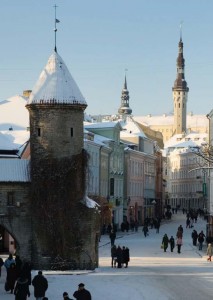 Tallinn: A heavy snow had fallen over night, but already the top layer was turning greyish brown, as if echoing the greyish brown buildings of communist Tallinn. The streets were virtually empty of cars, but pedestrians were everywhere, huddled in grey coats, heads bowed against an icy arctic wind as they trudged resolutely towards their destinations. This was December 1985, a few short months after Gorbachev had risen to power. In the West we had already started to celebrate the arrival of perestroika – the loosening of the straight-jacket that had confined the people of the Soviet empire for most of the twentieth century. But in winter-time Tallinn, any kind of freedom seemed as distant a dream as ever. Fast-forward some 20 years to now, and although the advertising that lines Tallinn's streets appears gaudy to English eyes, it provides welcome splashes of colour in a landscape that was once grey. True, the Soviet-era office blocks and apartment complexes look as stern as they did before: but leavened now with colour and the buzz of traffic they seem somehow less forbidding. It's summer, too, so people are more lightly dressed: but they appear to have shed a burden of grim endurance along with those winter coats. Back then, ramshackle stalls lined the approach to the old town of Tallinn. Most seemed to be selling Cuban cigars, the only imported luxury I could see.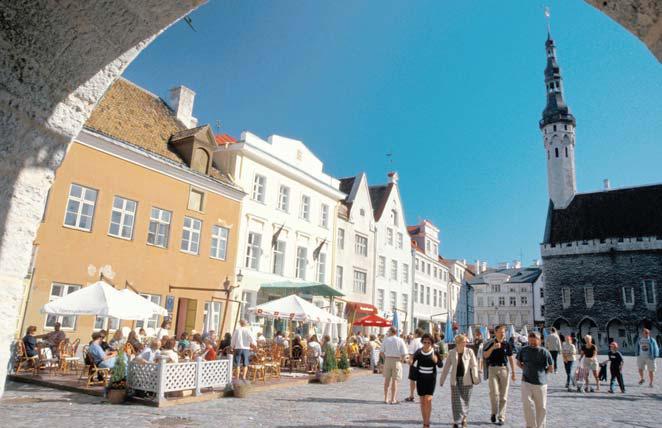 The Soviet Union and its satellites provided Cuba with their only export market, as the 'free world' had banned Cuban imports. Some elderly, male, American tourists had peeled away from their group and were flapping around the stalls like a flock of seagulls looking for a feed. The thick stone walls of the old town were pierced by a once-fortified gateway, from where a cobbled street led upwards past more grey buildings to the Lossi Plats, the town's main square. A couple of shops were open for tourist business, but there didn't appear to be much to sell, other than a small selection of garishly coloured sweaters knitted from synthetic wool. There was a small café on the square, a low-ceilinged affair fugged with cigarette smoke. But it provided Tallinn's only real welcome – and a passable attempt at mulled wine, although the coffee it dished up was grey and weak. These days the stalls are still there, but now they're selling flowers: bright egg-yolk-coloured sunflowers, vivid scarlet carnations, heavy-headed marigolds, and blue flowers the colour of the sky on a perfect summer's day. The street up to the Lossi Plats is lined with shops selling ropes of amber beads, folk costumes, coarsely woven linen shirts and tablecloths and, yes, those sweaters.
This time round, though, the sweaters are made of real wool and their designs are based on traditional patterns, intricate and sophisticated. Tourists throng the streets, and the terraces of a multitude of restaurants around the Plats and its neighbouring streets are packed. Food there is hefty and hearty, a close cousin of Scandinavian and German cuisines. Herrings in sour cream and onions, and a crisply roasted pork hock atop a substantial pile of sauerkraut, are washed down with a jug-like glass of blonde wheat beer. Anything that lunch may lack in finesse is more than made up for in the generous size of such a serving. My father's father came from the Baltic region, so on my earlier visit I decided to go and look for the local synagogue, which my ancestors might have attended. It was a vague attempt to close the temporal gap between myself and the grandfather I'd never met. Somehow I found my way to a weatherboard cottage on the outskirts of town, where I met the rabbi. The old man was as bearded as Santa Claus, although he lacked Santa's air of rotund contentment as he welcomed me into a sparsely decorated kitchen. Yes, he told me, Tallinn still had a Jewish synagogue, but its community was small and growing ever smaller as older members died and the younger generation refused to join, for fear of losing their livelihoods under the disapproving communist regime.
I asked whether he thought there was a future for Jews in Tallinn. He shrugged and remained silent for a few long moments, then thanked me for my visit. As I left, I felt his sense of loss weigh heavy on me. This time I didn't have time to visit the synagogue in the suburbs, but I did make my way to the gloriously gaudy Alexander Nevsky Cathedral. Outside its doors, five old women wearing headscarves and wrinkled woollen stockings begged for alms, a plastic bowl held in each outstretched hand. Inside, all was Orthodox splendour: the walls crowded with mosaic icons of saints, the air heavy with the smell of incense. There was a crowd of communicants, mainly middle-aged women in flowery housecoats and garishly made-up younger women in tight skirts and high heels.
They queued to kiss first a panelled icon and then the priest's hand, the latter peeping out from the sleeves of an opulently embroidered robe. Now that the dam of communism had blown open, people had flooded back towards religion's traditional consolations. Not far away, a concert of baroque music was just beginning, in the more spartan but no less beautiful church of the Lutheran Toomkirik. Wrapped in its musical harmonies, I sat on a wooden bench and contemplated the heraldic emblems of noble and ancient families that covered the walls. I could almost imagine that these people, who once worshipped here in this sublimely peaceful cathedral, were looking down from the heavens and smiling in approval at the latest twist in Tallinn's long history.
www.tourism.tallinn.ee The city's official tourism website. A good general site, with essential facts and figures, a good historical overview, information on major sights and forthcoming events.
Sightseeing Tallinn

The Vanalinn (Old Town) is a UNESCO world heritage site. Its medieval cobbled streets, red-capped towers and pretty spires are surrounded by ancient city walls with imposing gates. Toompea Castle is one of the oldest and grandest architectural monuments. Once the hilltop stronghold of the German Knights who controlled the city in the Middle Ages, today it houses the Estonian Parliament. Raekoja Plats, the cobbled market square and general hub, is as old as the city itself. It is dominated by the fifteenth-century Town Hall, which boasts elegant gothic arches and a slender steeple, on top of which sits Vana Toomas, a sixteenth-century weather vane that is the city's emblem. Alexander Nevsky Cathedral is Tallinn's largest and grandest cathedral. It was built when Estonia was part of the Russian tsarist empire and named after the Prince of Novgorod.