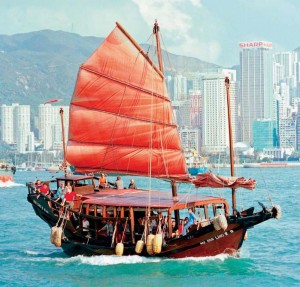 When I think of Hong Kong, I think of rain. Not just any old rain,but the monsoon of wui gwai – the lashing storms that washed out the handover ceremony in June 1997. The ceremony offered my first impressions of the former British colony, long before I had visited Hong Kong:live television images of a lone bugler in a white tunic playing the Last Post, as the standardwas lowered over Government House for the last time; heartbreaking pictures of Governor Patten, his head bowed in sombre reflection, the shoulders of his crumpled blue suit buckled by tropical rain. That night, people talked of Hong Kong changing beyond recognition,of the island and its three million inhabitants being lost forever to the brutality of Chinese rule. What would become of the place? The happy answer is that very little appears to have changed.It is a tribute to the vigour and perseverance of this pearl of the South China Sea – and also,perhaps, to the policies of its rulers in Beijing – that Hong Kong continues to flourish.
You can see this from the Star Ferry at night, as she chugs across Victoria Harbour like a faithful dog. I stood at the stern of the ship, en route to Kowloon, looking back at the coathanger lights of the Hong Kong and Shanghai Bank, at the fading neon of Causeway Bay,and marvelling at the staggering us$40-billion International Finance Centre, the third tallest building in China. This sky-piercing monument to the twin gods of money and land reclamation was completed long after the British departed. In its bowels is a shopping mall practically the size of Texas,where Hong Kong's elite can gorge themselves on white Burgundy and foie gras,designer clothes and underwear from good old home.This is the neighbourhood of theMarks & Spencer. In some senses,of course, the British have never left.The bars and restaurants of Lan Kwai Fong, for example,still heave with boozy, carefree twenty-somethings who have made east Asia their temporary salesman and the billion-dollar broker, the accents Cockney or cut-glass. In one subterranean nightclub, I encountered a gorgeous,slim-waisted Brazilian modelwho was earning her fortune as 'the face of the West'in Asia. A Canadian man of indeterminate age was chatting her up, boasting that he had arm-wrestled Jackie Chan.Towards two in the morning,drunk and out of luck,he hailed a cab eastwards, to the brothels of Wan Chai.
There is,of course,another Hong Kong, away from the glitz and the ceaseless hum of downtown money. There is the Hong Kong of Mongkok, on the Kowloon side,where the cramped alleyways of the bird market are lined with cages fashioned from varnished bamboo.There is the Hong Kong of Happy Valley,where a week's wages can be lost on a single bet in the madness of a Wednesday night's horseracing.The Chinese are ravenous gamblers,boarding night boats from Shun Tak to nearby Macau, to lose themselves in the labyrinth of the Lisboa Casino, their every bet and gesture monitored by close-circuitTV. It is on water that I am happiest – in Hong Kong,buzzing out to restaurants on Lamma Island,pointing to a snapper in a tank and waiting just ten minutes before it is brought to my table, grilled to perfection.In summer, the humidity of southern China pins your shirt to your back, it brings you out in a damp, fever-sweat just seconds after leaving the air-conditioned sanctuary of a shop or office: all of this is blown clear away by the sea air. But I also love the crush of the city, the traffic and the crowds, the smells of five-spice and soy sauce in doorways and yards.
Is there a better lunch than dim sum at the Luk Yu Teahouse,an Art Deco throwback to the Hong Kong of old? Why do Indian curries,why does Japanese sushi, taste better here than almost anywhere else in the world? Perhaps because Hong Kong is a melting pot of races and creeds,a gateway to China that is neither Chinese nor British. As I became more familiar with Hong Kong, I ventured north, into the New Territories, spending a lot of time walking in the lush highlands to the east of Tai Po, between Plover Cove and Starling Inlet. Looking across the land border at the endless,characterless high-rises of downtown Shenzhen,it felt as though Hong Kong had no more in common with its booming neighbour than it does with London,New York or Madrid.Hong Kong in fact is unique. Long may it remain so.
Hotels in Hong Kong
The Peninsula Hong Kong's most famous hotel is unrivalled for colonial-style luxury.It has sumptuous rooms,a selection of elegant bars and restaurants, and the service is impeccable. It's located just off the garish bustle of Tsim Sha Tsui's streets.
InterContinental Hotel Lavish hotel with fantastic views of Hong Kong Island from its position on the edge of Victoria Harbour in Tsim Sha Tsui. Uniformed doormen are constantly polishing the brass and there is a fleet of Roll Royces that can be hired out – complete with chaffeur.
Mandarin Oriental Central Considered by many to be Hong Kong's best hotel, on account of its old-world charm and excellent service. Rooms are filled with antiques and Chinese textiles, while the luxurious spa includes private treatment rooms, couples'suites and Chinese herbal steam rooms.
Island Shangri-La Situated in Pacific Place, this is as close as you can get to Hong Kong's best shopping while staying relaxed.The hotel has 771 chandeliers, and the world's largest Chinese silk painting spans 16 storeys in the atrium. The hotel also offers great views of the Peak and Victoria Harbour.
Langham Place Hotel Elegant hotel in the heart of the Mongkok area of Kowloon. Its impressive spa specialises in traditional Chinese medicine, while guest rooms feature 42-inch LCD screen televisions and oversized baths. Dining options include Cantonese specialities,which can be enjoyed under mango trees on the hotel's al fresco terrace.
Lanson Place Small boutique hotel in lively Causeway Bay,within walking distance of Victoria Park. Facilities include a fully equipped,24-hour gym and a library.
Top Sites
Star Ferry Atmospheric way to get between Central and Tsim Sha Tsui. A Hong Kong institution that's been running since 1898,the seven-minute ride provides great views of Central's skyscrapers,and at night the boat is adorned with strings of lights.
Tian Tan Buddha The world's tallest outdoor,seated bronze Buddha is an impressive sight and weighs as much as a jumbo jet. It's accessible by way of 268 steps up to the Buddha's platform, from which great views of the rugged mountains of Lantau Island can be had.
Victoria Peak The air is clear and cool,the views of Kowloon and Hong Kong are spectacular,and the Peak Tram ride to the top is so steep it's an experience in itself. There's a mall at the top and several restaurants.
Temple Street Night Market The goods are largely tourist tat,but the buzz and the neon surrounding this famous attraction make it worth a visit.
Hong Kong Park Wedged between mountains on one side and skyscrapers on the other,this lovely park includes an aviary with over 100 species from South-East Asia and New Guinea. It's a good place to relax in the midday heat,or to watch t'ai chi in the morning
www.discoverhongkong.com Handy information from the city's tourist board, including sections on shopping, restaurants and travelling around the city.